Saturday, October 3, 2015, from 6pm–9pm, CST
727 Magazine Street, New Orleans, Louisiana 70130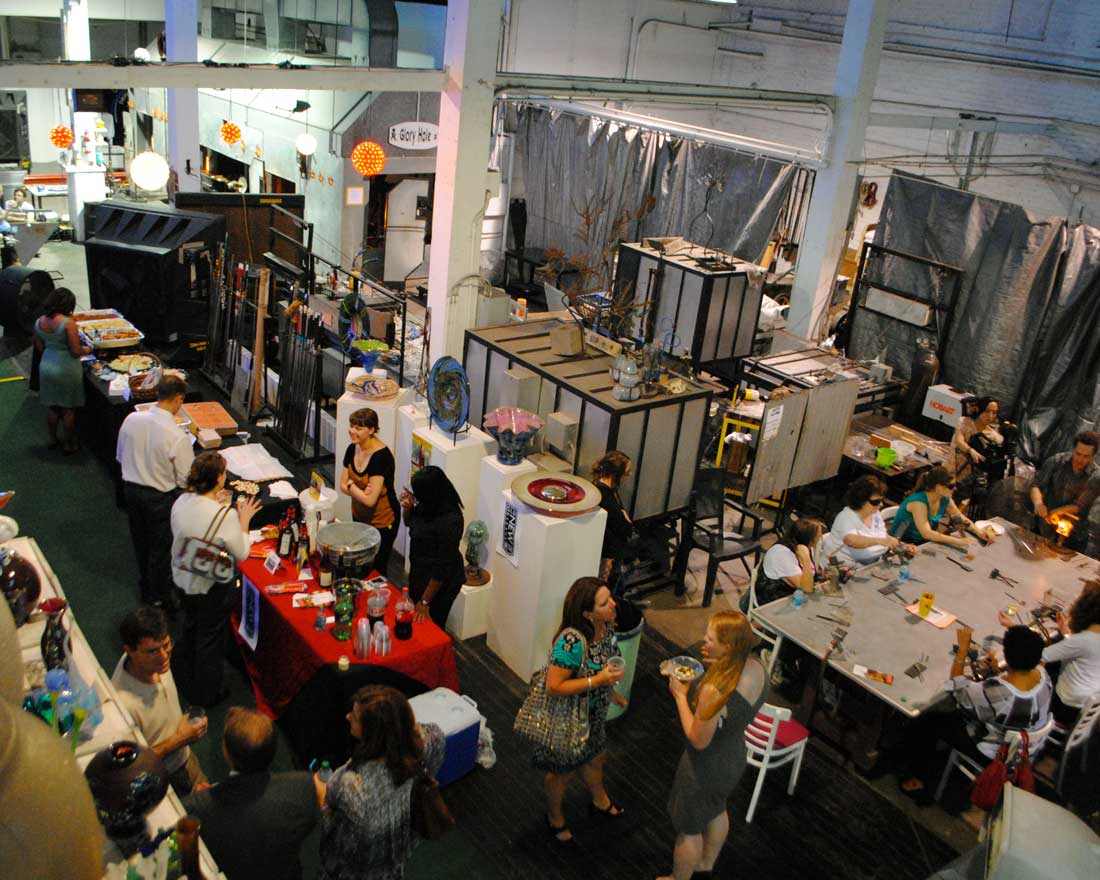 Activities will abound throughout our open-working studios!
Join the New Orleans Glassworks & Printmaking Studio Saturday, the 3rd of October, from 6 pm to 9 pm, for Art for Arts' Sake, featuring:
No cover/admission fee! All activities and demonstrations free-of-charge!
SPECIAL EXHIBITIONS
Greg Giegucz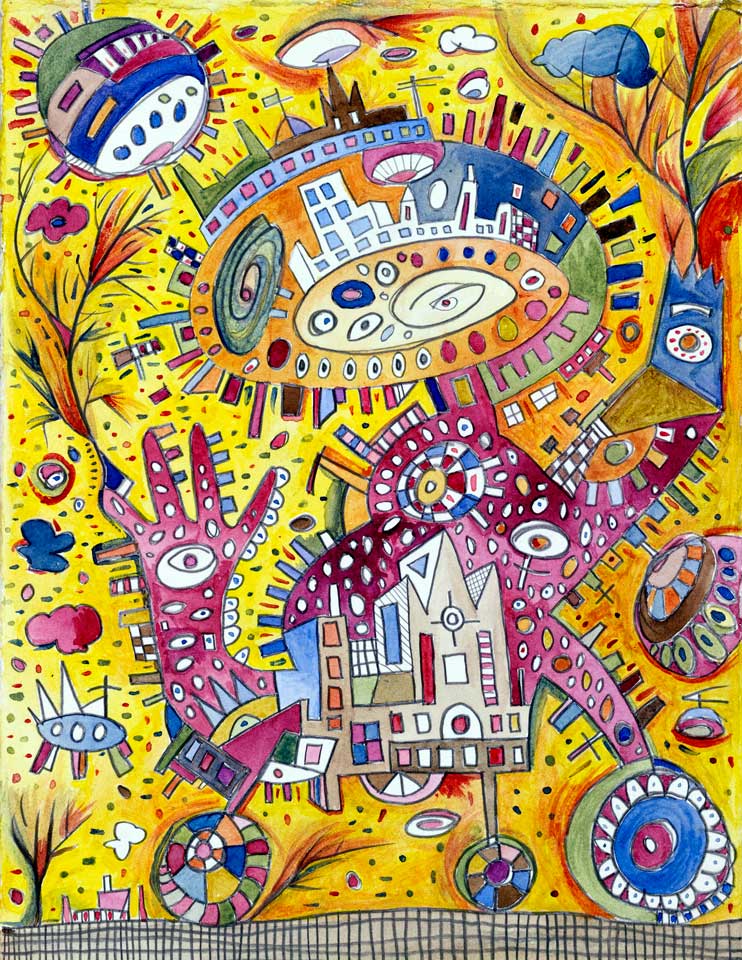 "Ratrod" by Greg Giegucz.
For Art for Arts' Sake, the New Orleans Glassworks & Printmaking Studio premieres its year-long exhibit featuring art fabrics created by master-printmaker Greg Giegucz.
This body of work most fundamentally is a study of New Orleans architecture—historically as diverse as it is similar.
The exhibition shall feature original works-on-paper vis-à-vis art apparel; compositions initially hard-crafted by Giegucz shall appear alongside corollary fashion from which their fabric designs were drawn.
Tapestries and scarves by Giegucz outfit viewers with a visual timeline of New Orleans architecture. Guests of or to New Orleans can knit together Giegucz's thematic threads that by weft and woof weave an architectural history of New Orleans—one spanning neighborhoods ranging from the Lower Ninth Ward, to the French Quarter and the Tremé, to the Irish Channel and City Park, culminating so far as the City's Garden District and Audubon area.
When not making artwork of his own, or designing fabric for others to don, Giegucz is a tenured instructor of printmaking and ceramics at the New Orleans School of Glassworks & Printmaking Studio.
Paul Joseph Stankard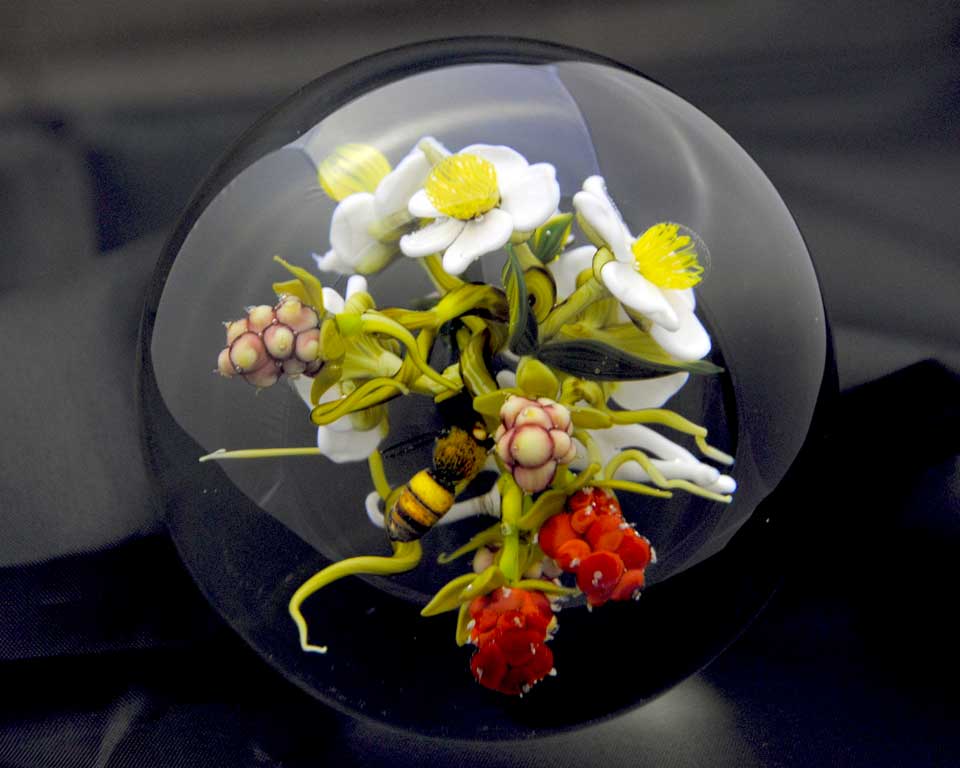 Paperweight by flameworker Paul Stankard.
For Art for Arts' Sake 2015, the New Orleans Glassworks & Printmaking Studio will showcase paperweights by master-flameworker Paul Stankard, deemed patron saint presiding over the modern glass paperweight.
Beginning in the 1960s, Stankard pioneered a personal creative journey contemplating flora local to the the Northeastern United States, rendering glass studies encapsulating botanical microcosms, ushering glass paperweights from a tradition of decorative art objects to unique expressions of fine art. Through discipline and labor, Stankard tempered glass floral designs increasingly natural and botanically lifelike, achieving feats so mesmerizing as to evoke a popular credulity by onlookers that Stankard has not encased in glass real flowers.
Stankard has been described as a "master at distilling the essence of organic form through refined compositions of color, symbolism, and atmosphere." Through every piece, Stankard extends rapturous intimacy, rewarding "exquisite details of a petal, leaf, or stem." Art writers touch upon the illusory quality of Stankard's work when viewed from multiple angles, articulating that "these are not cut flowers frozen in mid air, but are rooted in the earth and rendered with intact root systems." Rather, in a subtle flourish, Stankard underscores "Magical Realism in the form of human figures entwined in the roots," and conversely, when viewed from above, "insects, usually honeybees, circulate Stankard's ecological bouquet, layering form and meaning through depictions of pollination and cycles of life."
By his own admission, Stankard has invented ways "to express the seen and unseen beauty of nature," or as Stankard might give utterance through verse:
Receive this glass
it holds my memories
crafted blossoms
suspended
in stillness
to be pollinated
by your sight
anticipating
your touch
through time

—Paul J. Stankard
Stankard's work permeates permanent collections including The Smithsonian Institution in Washington, DC; the Metropolitan Museum of Art in New York, New York; the Musée des Arts Décoratifs and the Musée du Louvre in Paris, France; the Victoria & Albert Museum in London, England; and The Corning Museum of Glass in Corning, New York.
On display for the exhibition at the New Orleans Glassworks & Printmaking studio will be a selection of paperweights that are Stankard's signature.
FREE HANDS-ON DEMONSTRATIONS
Printmaking & Torchworking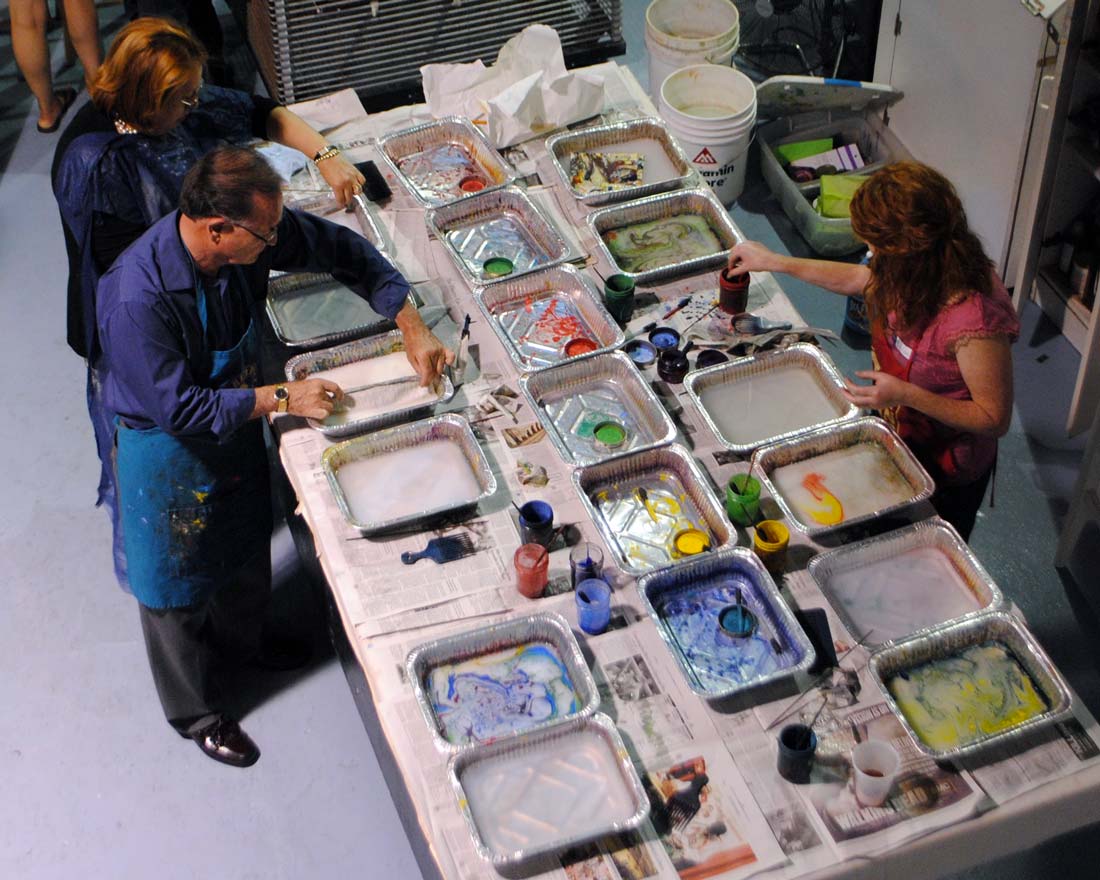 Join us for free hands-on Italian paper marbling in our printmaking studio.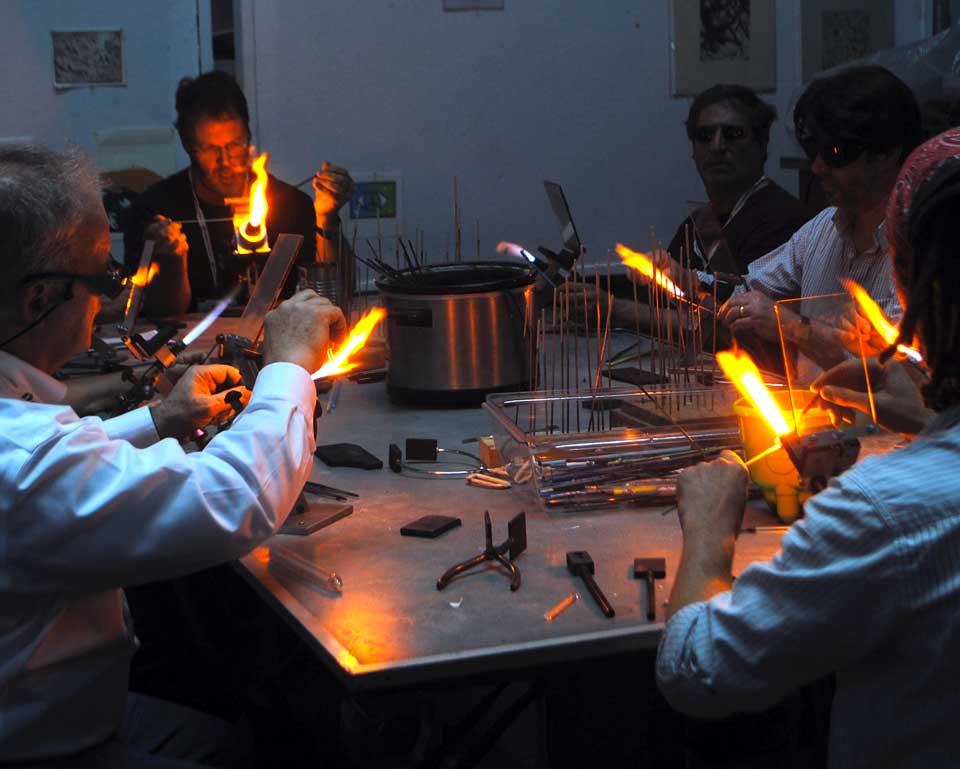 Enkindle your creative spirit in our torchworking studio, where instructors will guide guests through hands-on activities, free-of-charge!
We invite all visitors to participate in our free hands-on demonstrations, presided over by master-artisans in our open-working studios for glass torchworking and printmaking.
Guests may enjoy hands-on activities, provided free-of-charge: engage creation of your own glass beads or exotic sea creatures in our torchworking studio, or circulate your creativity via paper marbling in our printmaking studio.
Glassblowing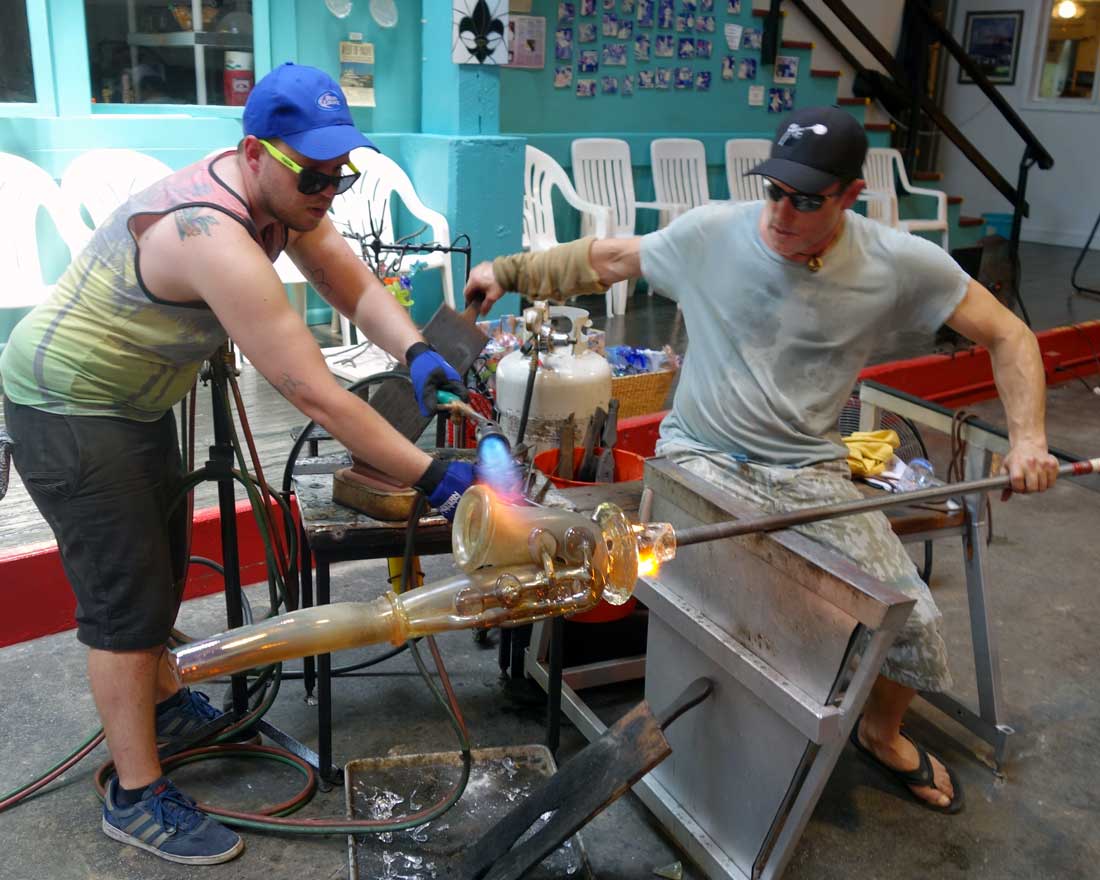 Glassblowers Robert Stern and Kyle Herr collaborate in sculpting a glass saxophone.
From our stable of artisans, master-gaffers from the New Orleans Glassworks shall perform breathtaking glassblowing demonstrations on the hotshop studio floor.