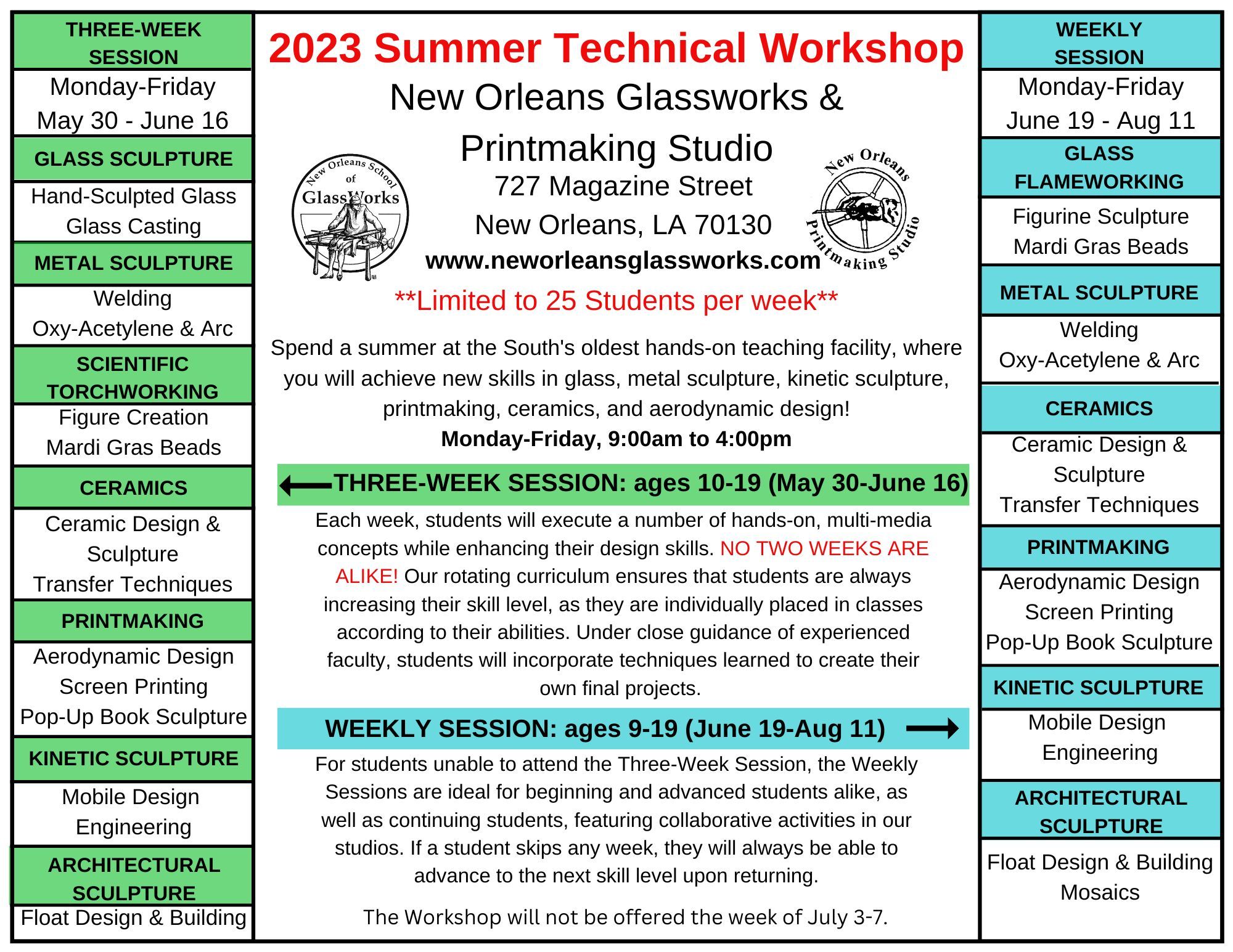 Workshop Dates
Tuesday, May 30, 2023 - Friday, August 11, 2023
(9:00am–4:00pm)
This extraordinary workshop is one-of-a-kind!
Young artists, ages 9–19, learn a wide array of innovative techniques and skills in:
Glassblowing
Metal Sculpture & Welding
Printmaking (Letterpress, Drypoint Etching, Block Printing)
Glass Flameworking
Architectural Sculpture & Float Building
Ceramics
Stained Glass
All students design and execute their own projects under the assistance of our faculty, of whom all are master-craftsmen in their respective fields.
THREE WEEK SESSION (May 30 - June 16)
(Ages 10–19)
In our first three-week long session, students spend quality time in Glassblowing on the hot shop floor learning the basic concepts of designing and executing projects in hot glass. The excitement continues in our additional studios, with Metal Sculpture & Welding, Glass Torchworking/Flameworking, Printmaking, Ceramics, and Architectural Sculpture & Float Building. Students are always encouraged to create multimedia projects.
WEEKLY SESSIONS (June 19 - August 11)
(Ages 9–19)
Students can sign up for one, two, three, or more weeks, building their skills at their own pace. and no two weeks are the same. Each week they will increase their skill-level as they advance. We will offer the same studios as in the three-week session, excepting only Glassblowing which will be replaced with Stained Glass.
For more information, please do not hesitate to contact our offices for an information packet.
Essential Information
Our 2023 Summer Technical Workshop dates posted below.
Ages
Young adults, ages 10–19 for Weeks 1–3; all remaining weeks ages 9–19.
Program Dates
| Three-Week Session | Dates |
| --- | --- |
| Week 1 | May 30 – June 2, 2023 |
| Week 2 | June 5 – June 9, 2023 |
| Week 3 | June 12 – June 16, 2023 |
| Weekly Sessions | Dates |
| --- | --- |
| Week 4 | June 19 – June 23, 2023 |
| Week 5 | June 26 – June 30, 2023 |
| Week 6 | July 10 – July 14, 2023 |
| Week 7 | July 17 – July 21, 2023 |
| Week 8 | July 24 – July 28, 2023 |
| Week 9 | July 31 – August 4, 2023 |
| Week 10 | August 7 – August 11, 2023 |
Important Dates
In commemoration of Independence Day, the Summer Technical Workshop will not hold session the week of July 3-7.
Hours
Monday through Friday, 9am–4pm.
Lunch
Students recess for lunch every day, 11am–12 noon. Students are required to bring lunch each day, or make arrangements as otherwise noted. For convenience, Glassworks makes available a refrigerator, toaster oven, and microwave.
Arrangements may also be made with Bittersweet Confections, a sandwich and desert shop located next door. To enroll in its meal program, Bittersweet Confections must be contacted directly. Contact information is as follows for the weekly lunch menu:
Bittersweet Confections (for Boxed Lunch arrangements)
Additionally, all students must bring a water bottle, labeled with his or her respective name. Cold, filtered water is made available free-of-charge for refilling bottles throughout the day.
Before & After Care
Before and after care are offered Monday through Friday in one-hour increments, namely 8am–9am, as well as 4pm–5pm (or 6pm). Before & Aftercare reservations MUST BE MADE IN ADVANCE.
Studio Descriptions
Venetian Glassblowing & Sculpture
Available Three-Week Session only.
Available to young adults enrolled in our three-week session, students undertake fundamentals of European glassblowing, glass casting, and glass sculpture. This workshop is designed to enable students to incorporate glass designs into other forms of media, whether print, metal, kinetic sculpture, or other, culminating in multimedia final projects.
Glass Torchworking/Flameworking
Skills used in torchworking – also know as flameworking or lampworking – are commensurate with those employed in glassblowing, and scientific torchworking is a prerequisite for chemistry. Flameworking is the process by which colored glass rod (or "cane") is manipulated using heat from a single table-top torch, as seen frequently in chemistry labs. Students undergo a comprehensive introduction to beadmaking, learning basic methods for manipulating small sculptures on steel rods (called "mandrels"), advancing brilliant and complex color patterns. As students build their confidence and skills, they can begin to create pendants and figures.
Metal Sculpture & Welding
Students are immersed into the art of metal engineering and creative design through welding. Study includes fabrication of armatures and sculpted structures using welding, cutting, bending, and the finishing of metal—utilizing principles of kinetics and motion. Students are encouraged to combine creations executed in glass and print into respective metal sculpture projects. As skill levels increase, students develop projects in the vein of wall hangings, outdoor metal sculpture, creative light fixtures, and glass/metal end tables.
Ceramic Sculpture
Using red earthenware clay, students will learn hand-building techniques to form a wide variety of items, from vessels to whimsical sculptures. Contingent only on individual creativity and problem-solving, students conceive, execute, and fire their own works of art, which can be wall-mounted or placed in a home or garden.
Printmaking
Letterpress, Block Printing, Drypoint Relief Etching, 3-Dimensional Sculpture, Engineered Pop-Up Books, Aerodynamic Design and Italian Paper Marbling
Traditional, flat-bed printing presses are used to generate one-of-a-kind images on a diversity of paper, metal, and glass, while imparting knowledge of "relief" and "intaglio" printing methods. Additionally, digital systems will supplement traditional means, expanding educational scope. Students learn an array of techniques—pop-up bookmaking, woodblock carving, plexiglass etching, letterpress printing, and Italian paper marbling—and how to incorporate each into their own individual projects.
Architectural Sculpture & Float Building
Students learn basics for designing simple structures, and then how to build upon such knowledge by way of manipulating paper in pursuance of structural formations with paper mache. Three-dimensional forms will emerge as students work towards sculpting life-size forms, to be completed by the end of each student's session and available for taking home.
Stained Glass
Traditional stained glass techniques are taught with an emphasis on glass cutting and soldering. Students will begin with traditional suncatchers (2 dimensional hanging glass images) and work up to 3 dimensional multi-surfaced sculptures. Mixed media creations will be encouraged for students who attend multiple weeks.