The Glory of Beads: The Rise and Fall of the Società Veneȥiana per l'Industria delle Conterie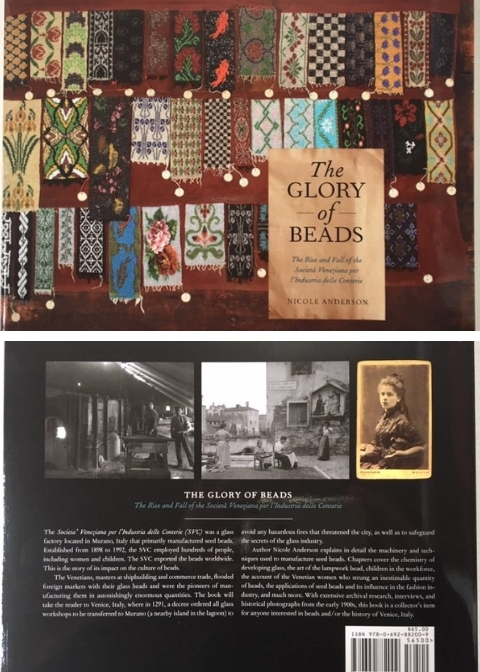 A breathtaking history of Venetian glass beads, available in our gallery for the holidays!
The Società Veneȥiana per l'Industria delle Conterie (SVC) was a glass factory located in Murano, Italy that primarily manufactured seed beads. Established from 1898 to 1992, the SVC employed hundreds of people, including women and children. The SVC exported the beads worldwide. This is the story of its impact on the culture of beads.
The Venetians, masters at shipbuilding and commerce trade, flooded foreign markets with their glass beads and were the pioneers of manufacturing them in astonishingly enormous quantities. The book will take the reader to Venice, Italy, where in 1291, a decree ordered all glass workshops to be transferred to Murano (a nearby island in the lagoon) to avoid any hazardous fires that threatened the city, as well as to safeguard the secrets of the glass industry.
Author Nicole Anderson explains in detail the machinery and techniques used to manufacture seed beads. Chapters cover the chemistry of developing glass, the art of the lampwork bead, children and women in the workforce, the applications of seed beads and its influence in the fashion industry, and much more. With extensive archival research, interviews, and historical photographs from the early 1900s, this book is a collector's item for anyone interested in beads and the history of Venice.
About the Author
Shortly after graduating from St. Mary's College in Orchard Lake, MI in 1984, Nicole Anderson embarked for Europe and has lived and worked in Venice, Italy ever since. Her interest in beads began when she worked in a glass store near the famous St. Mark's Square. Nicole now spends half the year in Venice amassing beads (in addition to searching for antique, vintage and rare ones), and the remaining months in the United States doing trunk shows from coast to coast.